About us - Company Info

EKL/LS Ltd. (previous name EKL/LPS) was founded in January 1992. The main activities of the company in those times were transportation and metalwork production.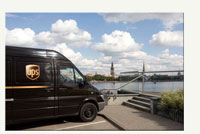 Later on, in October 1992 the Partnership Contract with UPS, USA - one of generally acknowledged world leaders in the area of courier services (fast letters, documents and parcels transportation) - was concluded.
In 2000 EKL/LS became an Authorized Service Contractor of UPS on the territory of Latvian Republic with the goal to carry out the whole spectrum of UPS services related to documents and parcels processing and transportation. Since 1995 EKL/LS is taking advantage of daily UPS charter flight to/from Riga Airport for the Express Shipments transportation. Moreover, since 2004 a regular ground line is opened to connect Latvia with other European countries in order to carry out Standard Shipments transportation.
EKL/LS has its own branded vehicle's fleet capable of satisfying the needs of customers in every point of the country. For customers' convenience besides the main office of EKL/LS, situated in Riga, other Customer Centers have been opened in Daugavpils, Ventspils and Liepaja.
High level of rendered service provided by EKL/LS is positively estimated by Governmental Authorities of the country and confirmed by numerous certificates and licenses: AEOF Certificate (the full version of Certificate of Safety, Reliability and Simplified Customs Procedures Application), Courier Services License, Brokerage and Declarations Activity License, Ground Cargo Transportation License, Customs Warehouse Maintenance License, etc.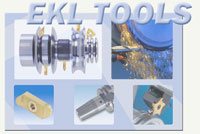 At the same time, EKL/LS successfully expands the second main line of its activity. It is Engineering Advisory Center EKL TOOLS that was established in 1995 in order to implement and adopt progressive and highly efficient metal-cutting tools in the industry.
In 1995 the contract with SGS TOOL Company (USA) was concluded. Later on, in 1997 corresponding Contract was signed with ISCAR (ISRAEL), in 1999 - with POKOLM (Germany), in 2003 – with AMAYA (France). EKL/LS is becoming the main distributor of mentioned above companies' products on the territory of the Baltic States. The process of supplier chain expansion is constantly continuing. At a customers will the information about tools produced by other manufacturers could be provided. Orders for such tools could be proceeded as well.
Engineering Advisory Center EKL/LS renders combined service for its customers starting from the particular tools selection and specific technological parameters calculations for different kind of product materials to the technical recommendations for the purchase of new machines and modernization of enterprises. In order to accelerate delivery of ordered products EKL/LS has created its own storage for standard and often put in practice cutting tools. The rest of the tools can be easily delivered to customers by UPS services in the fastest terms (1-3 days depending on the order).